Engage visitors with your time and talents as a volunteer at SCI!
Do you have a knack for knowledge? An appetite for adventure? A hand for helping? Whether you can donate a couple of hours or stick around for years, join SCI's volunteer team to help inspire a-ha! moments. Tell us your skills, interests and availability and we'll find ways for you to get involved.
Consider the possibilities:
Get your hands on science by presenting cart demonstrations.
Pitch in during busy seasons to greet visitors and answer questions.
Be a resident expert and present at one of SCI's events or forums.
If you're handy, use your fix-it skills to keep exhibits fully functioning.
Become an SCI Volunteer!
Read below to learn about the three types of volunteer roles at SCI and to submit an application. Please note: You must be at least 14 years of age to volunteer at SCI if unaccompanied by a parent/guardian.
Want more information? Join our volunteer email list to receive information about upcoming SCI volunteer opportunities.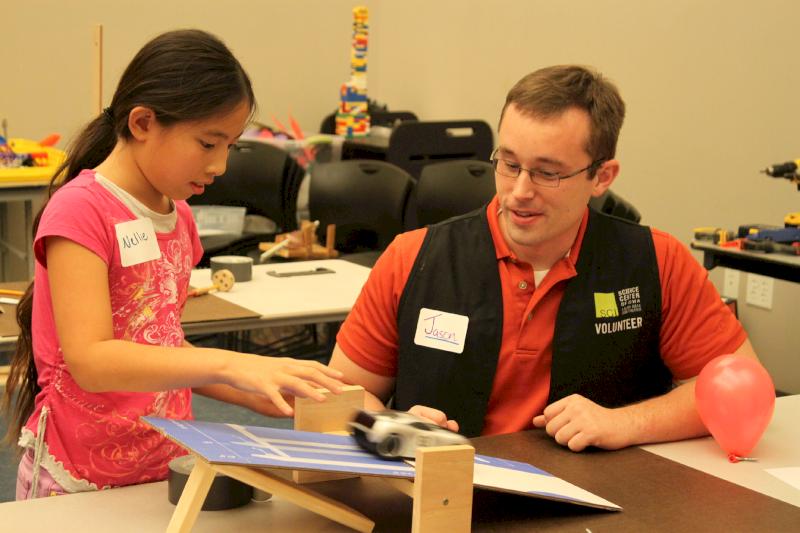 Become an SCI Volunteer
Read below to learn about the three types of volunteer roles at SCI — Core Volunteers, Special Event Volunteers and Group Volunteers — then submit an application using the green buttons below!
Questions? Contact volunteer@sciowa.org.
Core Volunteer
Core volunteers support SCI's daily operations by volunteering on a regular basis, whether it's once per week or once per month or with ongoing programs, like Star Parties. Core volunteers participate in orientation and training in order to help fulfill our mission — to engage and inspire Iowans along their journey of lifelong science learning.
Discovery Assistant: Provide effective and positive customer service to SCI's participants as a general information source. You'll help us guide visitors to exhibits, answer questions about SCI's programs and ensure participant safety. Learn more
Science Communication Volunteer: Show off your science skills! Science Communication Volunteers work closely with our Science Learning Team to present science demonstrations that spark "A-ha!" moments for participants. Learn more
Special Event Volunteer
Special event volunteers participate on an event-by-event basis, including events like Spooky Science and the Des Moines Mini Maker Faire.
Apply to be a Special Event Volunteer
Stargazing Guide Volunteer
Join a club of astronomy enthusiasts! Bring your passion for learning in order to collaboratively explore and investigate the universe with the public through a series of astronomy focused events both on-site at SCI and off-site within the Des Moines community.
Become a guide and be trained to utilize a variety of telescopes to promote curiosity and awe while engaging the public about planets, constellations, and nebulae. No experience necessary—we will train you to inspire those a-ha! moments.
Applicants must be 16 years of age or older.
Apply to be a Stargazing Guide Volunteer
Jr. Counselors
If you enjoy science and working with children and are 14 to 18 years old, volunteer as a Jr. Counselor! Get career-building experience assisting with science activities as you learn leadership, communication and teamwork skills. Earn an SCI membership after 40 hours of service!
Please note: A two-week commitment is required from 8:30 am- 4:30 pm, Monday - Friday.
View the full Jr. Counselor position description, including expectations and requirements.
Group Volunteers
Do you represent a group/organization looking for opportunities to get involved in your community? Volunteer groups of 8 or more can work together on one large activity or assist with multiple projects at once. Complete an application, and we'll work together to find an opportunity that fits your group!
Already an SCI Volunteer?
Current volunteers can click the link below to log in and sign up for shifts.
Forgot your login information? Questions about volunteering?
Contact volunteer@sciowa.org.