Environment — Art — Recreation — Team — Hands-On
Get in touch with the world around you through activities like water quality research, ecology, hiking, tree identification, species documentation, nature investigation and more! iEARTH is a partnership between the Science Center of Iowa and Des Moines Park and Recreation.
Learn from outdoor enthusiasts, art teachers and environmental specialists. Have a blast with fun and safe supervised activities. On rainy days, we'll be indoors or take a field trip, but please come rain or shine and dress for the weather!
Grade 2–5 camps will be held in MacRae Park. Use the entrance off of SW 9th St. We will meet at the shelter inside the park. From there, we will explore the creek, woods, trails, recreation and playground. For full-day camp, be sure to bring a lunch each day!
Grade 6–8 camps will be based at Gray's Lake. In addition to nature activities, this group will go swimming, biking and canoeing! More details below. A schedule with additional details will be sent to you before camp begins. For full-day camp, be sure to bring a lunch each day!
Note: Daily schedules and activities are weather dependent.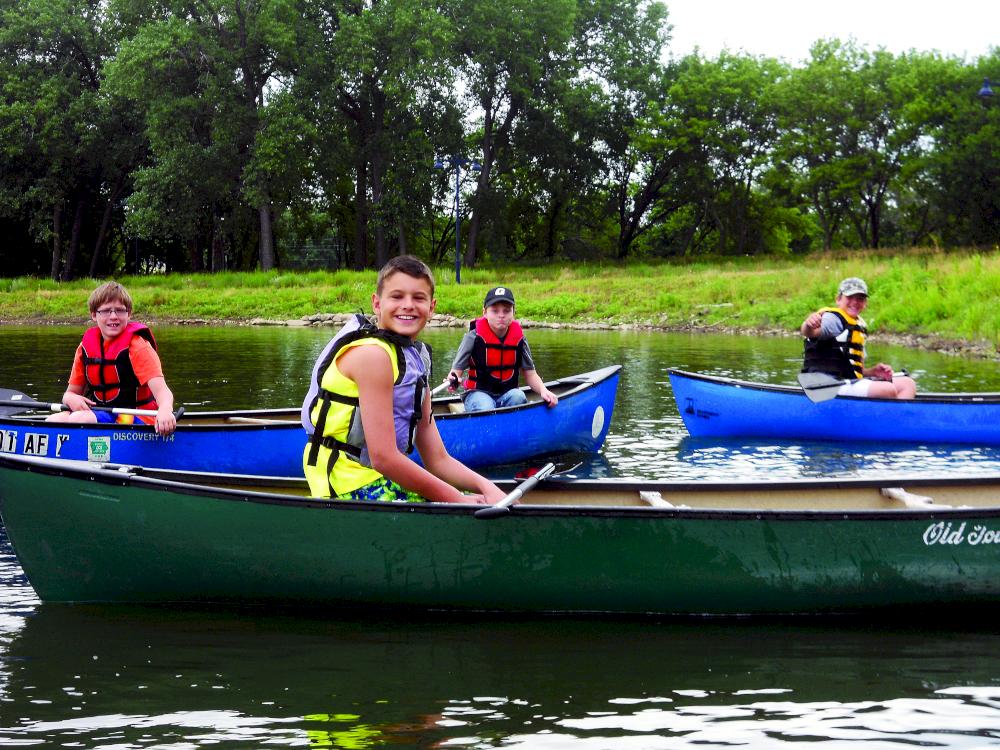 Biking and Canoeing — Grades 6–8
For grades 6 through 8, be sure to bring your bike each day! Biking camps will ride around Gray's Lake as well as along the Bill Riley Bike Trail between Gray's Lake and Greenwood Park. Experiment, learn and play along supervised trails and bike paths. You must be a confident rider with your own functioning bicycle, helmet and padlock. Bike maintenance and trail safety training will be provided on the first day of camp.
We also will be canoeing for at least part of every day as long as weather permits. The canoeing portion of camp will be taught by certified ACA Canoe Instructors. If your child has a life jacket that will work for canoeing, please send it with them to camp. Initial instruction will occur in lakes and ponds with the final canoe trip taking place on the Raccoon River. Additional details regarding that trip will be sent to you before camp begins.
Drop-Off & Pick-Up
Grades 2–5, MacRae Park: For camps held at MacRae Park, campers should be dropped off and picked up at the southwest shelter, near the tennis courts. The shelter is accessible from either entrance but closest to the Davis St. entrance. View map
Grades 6–8, Gray's Lake: For camps held at Gray's Lake, campers should be dropped off and picked up at the Gray's Lake Boat Rental & Concessions building located at the south entrance near Fleur Avenue and George Flagg Pkwy. View map
Extended Care
Before and After Care is available for iEARTH participants and will be held at the Science Center of Iowa. Campers will be transported to and from the iEARTH site by SCI camp staff. Students will leave SCI around 8:50 am and return around 4:10 pm. If your child is arriving or leaving camp within 10 minutes of when camp begins, please drop them off directly at the camp site. Extended care is available from 7:30–9:00 am and 4:00–5:30 pm for $8 per session (am or pm) per day. More details are available on the Camp Logistics page.